On November 5, 1981, the Odessa Rape Crisis Center was incorporated. Forty years later, the Odessa Rape Crisis Center, now Crisis Center of West Texas, continues to support survivors in need. After four decades, three names, three shelters, thousands of clients, and countless community supporters, the vision to end violence and serve those in need remains unchanged.
With your help, the Crisis Center of West Texas team will continue to respond, shelter, and educate to end domestic and sexual violence in West Texas. We anxiously await the day when domestic violence and sexual assault are a part of our history, not our everyday lives.
In honor of this milestone, join us for 40 Days of Giving! Every day through December 25th, we'll share a different way you can give back to support survivors. You can pick one or even do all 40 - each way helps us continue to serve survivors for years to come.
---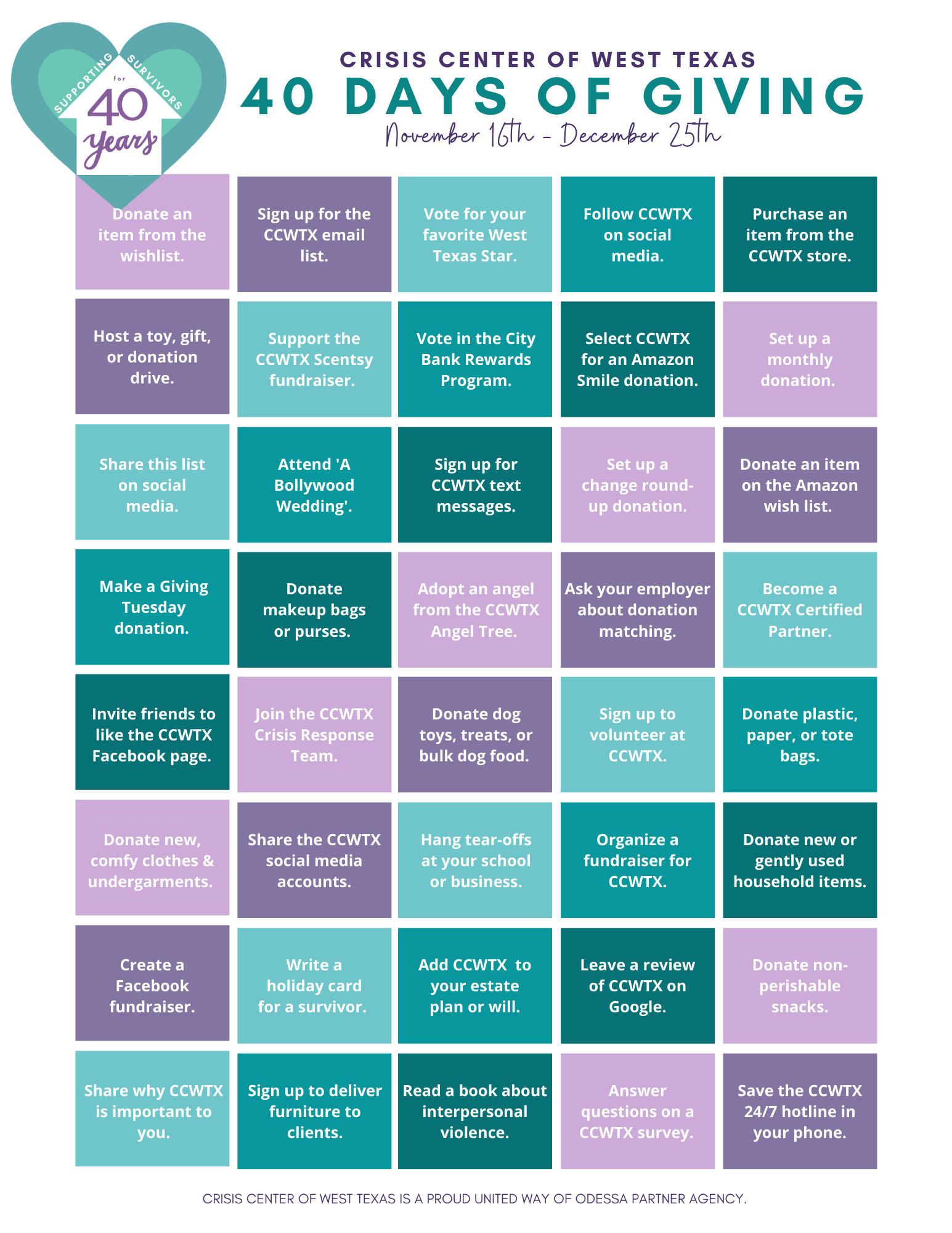 Donate an item from our wishlist

Select an item from the CCWTX wishlist to donate to a CCWTX client in need. Click to view the wishlist.

Sign up for the CCWTX email list

Stay in the loop on volunteer opportunities, upcoming events, and ways to support survivors. Sign up here.

Vote for your favorite West Texas Star

Dancing with West Texas Stars 2022 is underway! Donate and vote now.

Follow CCWTX on social media

CCWTX is on Facebook, Instagram, and Twitter at @CrisisCenterWTX - follow us!

Purchase an item from the CCWTX store

Purchase CCWTX shirts and more! Visit the store.

Host a toy, gift, or donation drive.

Contact CCWTX at 432-333-2527 to set up a drive through your family, group, or business.

Vote in the City Bank Community Rewards Program

Vote up to once an hour through December 12th to help CCWTX win up to $7,000! Vote for CCWTX here.

Select CCWTX for an Amazon Smile donation

Give back with every Amazon purchase at smile.amazon.com

Set up a monthly donation

Help CCWTX plan for the future with a recurring donation. Set yours up now.

Share this list on social media

Help more people find ways to give back this holiday season. Share on Facebook now.

Attend 'A Bollywood Wedding'

Celebrate with The Malliks on November 26th and support CCWTX. More information here.

Sign up for CCWTX text messages

Text CCWTX (case sensitive) to 26989 to stay in touch with the CCWTX team.

Set up a change round-up donation

Automatically round up your purchases to the nearest dollar, donating your spare change to support survivors. Learn more here.

Donate an item from the Amazon wishlist

Whether your shopping on Black Friday, Cyber Monday, or just in general, add an item from our Amazon wishlist to your cart! View the wishlist here.

Make a Giving Tuesday donation

Participate in the annual worldwide day of giving on Tuesday, November 30th here

Donate makeup bags or purses

Donate gently used items at 910-B South Grant Ave. in Odessa

Adopt an angel from the CCWTX Angel Tree

Visit Mamasita's Mexican Grill in Odessa to get an angel and help CCWTX provide holiday gifts for survivors and their children.

Ask your employer about donation matching

Find out if you can increase your donation to support survivors with the help of your employer.

Become a CCWTX Certified Partner

Your business or organization can support survivors for free. Email [email protected] to learn more.

Share the CCWTX Facebook page

Help your friends learn more about supporting survivors or help connect a survivor to our services. Visit the page here.

Join the Crisis Response Team

Join the team that advocates survivors after an assault. Email [email protected] to learn more.

Donate dog toys, treats, or bulk dog food.

Donate items for dogs living with survivors in our shelter at 910-B South Grant Ave. in Odessa

Donate plastic, paper, or tote bags

Donations can be delivered to 910-B South Grant Ave. in Odessa

Donate new, comfy clothes & undergarments

Keep survivors comfy, especially after an assault. Donations can be delivered to 910-B South Grant Ave. in Odessa

Hang tear-offs at your business or school

CCWTX tear-offs help spread the word about CCWTX services. Call 432-333-2527 to pick up yours today.

Organize a fundraiser for CCWTX

Ready to plan a fundraiser? Call 432-333-2527 to speak to a CCWTX team member.

Donate new or gently used household items

Help survivors furnish new homes. Donations can be delivered to 910-B South Grant Ave. in Odessa

Create a Facebook fundraiser

Help raise funds to support survivors through your Facebook network! Create one here.

Write a holiday card for a survivor

Wish someone in need a happy holiday! Cards can be delivered to 910-B South Grant Ave. in Odessa

Add CCWTX to your estate plan or will

A growing number of families support our mission throughout their lives, even after their passing. These contributions can include bequests by will, contributions of life insurance, or endowments. If you, too, are interested in leaving a legacy of supporting survivors or making a gift to Crisis Center of West Texas part of your end of life planning, please contact us at 432-333-2527. 

Leave a review for CCWTX on Google

Love CCWTX? Tell us why in a Google review! Write yours here.

Donate nonperishable snacks

Help keep the individuals and families at our shelter and who visit our office fed! Snacks can be dropped off at 910-B South Grant in Odessa.

Share why CCWTX is important to you

We love your feedback. Share your CCWTX story with us by emailing [email protected]

Sign up to deliver furniture to clients

When clients move into a new, safe home, moving donated furniture can be a challenge. If you have a vehicle that can help move large items, please sign up to help by emailing [email protected]

Read a book about interpersonal violence

Learn more about supporting survivors through reading! You can find a community of CCWTX supporters who read here.

Save the CCWTX Hotline in your phone

Ensure you have our number ready whenever you or someone you know are in need. The 24/7 local hotline can be reached at 1-866-627-4747.