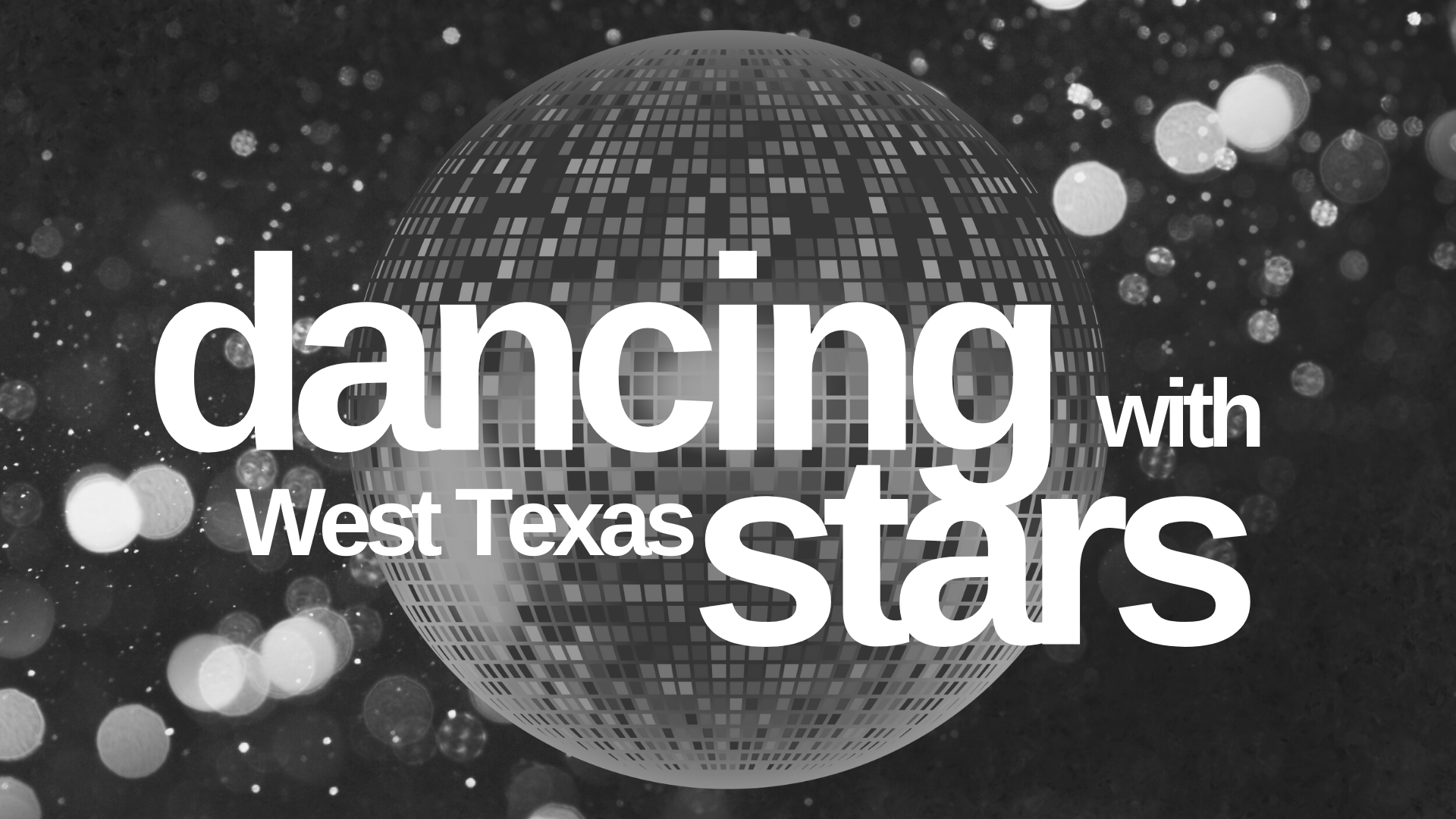 ---
The Event
Dancing with West Texas Stars is an evening of amazing performances by local stars partnered with talented professional dancers from the community. You don't want to miss this!
After the show on January 27th, we're headed from The Ector Theatre to the adjacent Odessa Marriott Hotel & Conference Center for the DWWTS After Party ft. live music, dinner, and drinks!
Donate to Vote
Your ticket purchases and donations do more than count as votes for your favorite performers; you're supporting the work to make home safe for more West Texans.
The West Texas Star with the most votes by noon on Friday, January 26th wins the Mirror Ball Trophy, but the fun doesn't stop there - the competition continues the night of the show!
Donatella Blackwell
Donatella Blackwell was born and raised in Fort Worth, Texas, but moved to Midland nine years ago thanks to her loving husband, Luke! It was a hard move at first, but she quickly realized how great West Texas is! God has blessed them with four amazing children. When she's not homeschooling on Monday and Wednesday, you will see Donatella out running, playing pickleball, or cooking one of her nonna's famous recipes. There's nothing she loves more than hosting in her home with good wine, homemade pasta, a little opera and sometimes a kitchen dance party! Donatella is extremely honored to be a part of DWWTS and support the Crisis Center. She will do whatever she can and dance her heart out for this amazing event and everything it stands for!
---
Jessica Bolton
Jessica Bolton is a proud Odessan! She has been married to her best friend, Brody, for 18 years and they have four kiddos. Jessica is the owner of B. Blonde Hair Salon and has been behind the chair for 22 years. She is semi-retired at the moment while homeschooling their children and is grateful for this opportunity!
---
Chandler Foreman
Speaker. Musician. TV personality and mentor, Chandler Foreman is from Houston, Texas. Chandler graduated from the University of North Texas with a degree in Converged Broadcast Media. In 2019, she was crowned Miss Texas and placed Top 10 at the Miss America competition. Aspiring to help you rise and shine on national tv one day, Chandler is currently a morning anchor for ABC Big 2 News.
---
Chris Garrett
Christopher R. Garrett has spent the last 31 years in Odessa, originally from Andrews, Texas. He spent 17 years with The Sewell Family of Dealerships where he began in sales, and was later promoted to Finance Director. He left in 2010 to pursue an oilfield career in the family business. He now serves as President of Bulldog Safety Anchors, Inc. and Circle Four Utility Services, Inc. in Odessa. Chris is married to Julie Garrett, a TCU Graduate, and they have two beautiful daughters. The oldest, Erin Franklin, a Texas Tech Graduate with a master's in special education, is married to Ryan Franklin and their daughter Robin is 3 years old. The youngest, Emily Wade, is a TCU graduate who holds a Master of Accounting and is married to Austen Wade. They have a new addition to their family: Hudson Garrett Wade, who was born September 2023. Chris has served in the community over the years, with a mindset to develop skilled leaders around him who can be strategic thinkers in their careers and everyday work environment while also employing growth and vision in their decisions. He wants these to be leaders who will inspire and motivate others in the same way he has been influenced. Chris currently serves on the Board of Directors at Odessa Country Club, as well as the Medical Center Health System Foundation board, and West Texas Food Bank Midland County board. Previously, he served on boards and committees at Southwest Heritage Credit Union, Make-A-Wish, Texas Tech Health Science Center, TCU's Brite Divinity School, the Boys and Girls Club, First United Methodist Church, and Odessa College.
---
Michael Hamilton
Corporal Michael "Hambone" Hamilton is from Dallas, Texas. He is a U.S. Army combat veteran who served six and a half years and deployed to both Iraq and Afghanistan as part of Operation Iraqi Freedom and Operation Enduring Freedom. Cpl. Hamilton works as a Community Relations Officer for the Odessa Police Department, where he has served for nine years. He is currently pursuing his bachelors in audio production at FUll Sail University.
---
Michael Ianquaniello
Michael Iaquaniello, born and raised in Midland and is the proud Vice President and Construction Manager for the family-run company Onyx Contractors. He is a father of two baby girls, Griffin Kate & Collier, with his wife, Mikayela. Aside from being a family man, Michael is a lover of Christ, music, & sports. Growing up, he's had the opportunity to be involved in his community of Midland and Odessa and is ecstatic to continue doing so through Dancing with West Texas Stars. Fun Fact: Michael's family business was the general contractor for the construction of the new Louise Wood Angel House, Crisis Center's emergency shelter!
---
Trace Notley
Trace Notley is a lifelong resident of Odessa. After graduating from Permian High School in 2016, Trace was blessed to receive a football scholarship to UTPB, becoming a player on the inaugural football team. Through this opportunity, Trace earned his bachelor's in business administration and his MBA. Trace is a Commercial Lender at SouthWest Bank, where he enjoys serving customers, his peers, and the Odessa community. When Trace isn't spending time with family or friends, he enjoys sports, serving in the youth ministry at Crossroads, music, traveling, and all things outdoors. Trace enjoys dancing, but has never performed in front of a crowd before. However, he is excited about the challenge and the opportunity to join partner Emily Hamer to help raise funds for the Crisis Center!
---
Joshua Reyes
Joshua Reyes is the Founder and CEO of Revival Float Spa and serves as a Real Estate Investor through his company, Revival Enterprises. Joshua also has a role as a solutions advisor for ADT, and as a massage therapy instructor, providing continuing education courses for licensed massage therapists. Joshua was born and raised in Odessa and is a proud graduate of Odessa High School. He attended UT Permian Basin where he received his Bachelor of Science in Biology (Biomolecular Track) in 2014, graduating with Cum Laude Honors. Joshua also attended Odessa College for Massage Therapy. Joshua is active across the community, including as a board member of Young Professionals of Odessa and speaker and volunteer across a number of other organizations. He credits his success around helping and empowering others and his personal motto is, "love the grind, not the goal."
---
Russell Tippin
Russell "Dance Machine" Tippin is the President and CEO of Medical Center Health System. He and his wife Lisa have been married for 22 years. Their son Tucker is a sophomore at Tarleton State University, and daughter Macy Rose is a freshman at Texas A&M University. Russell looks forward to having a good time on stage with his partner Helen. They can't wait to put on an awesome show!
---
Lauren Wall
Lauren (Van Stavern) Wall was born and raised in Midland. She graduated from Texas Tech University and returned to Midland after living in Colorado with her husband, Matt and her two kids, Everett & Eli. Lauren started ShopEstilo boutique five years ago out of her dad's warehouse. She now employs 20 women with a mission of serving others well because we are ultimately serving Someone greater. Lauren believes Crisis Center is a blessing and says she is lucky to be a part of how CCWTX serves the community.
---
Scott Windham
Scott Windham is a native Odessan. He has been involved in many aspects of our community, businesses, non-profits, the arts and is currently involved with all of his children's sports and activities! He and Nikki have been married for 20 years and have 3 amazing children, Lily, Annie and Sammy.