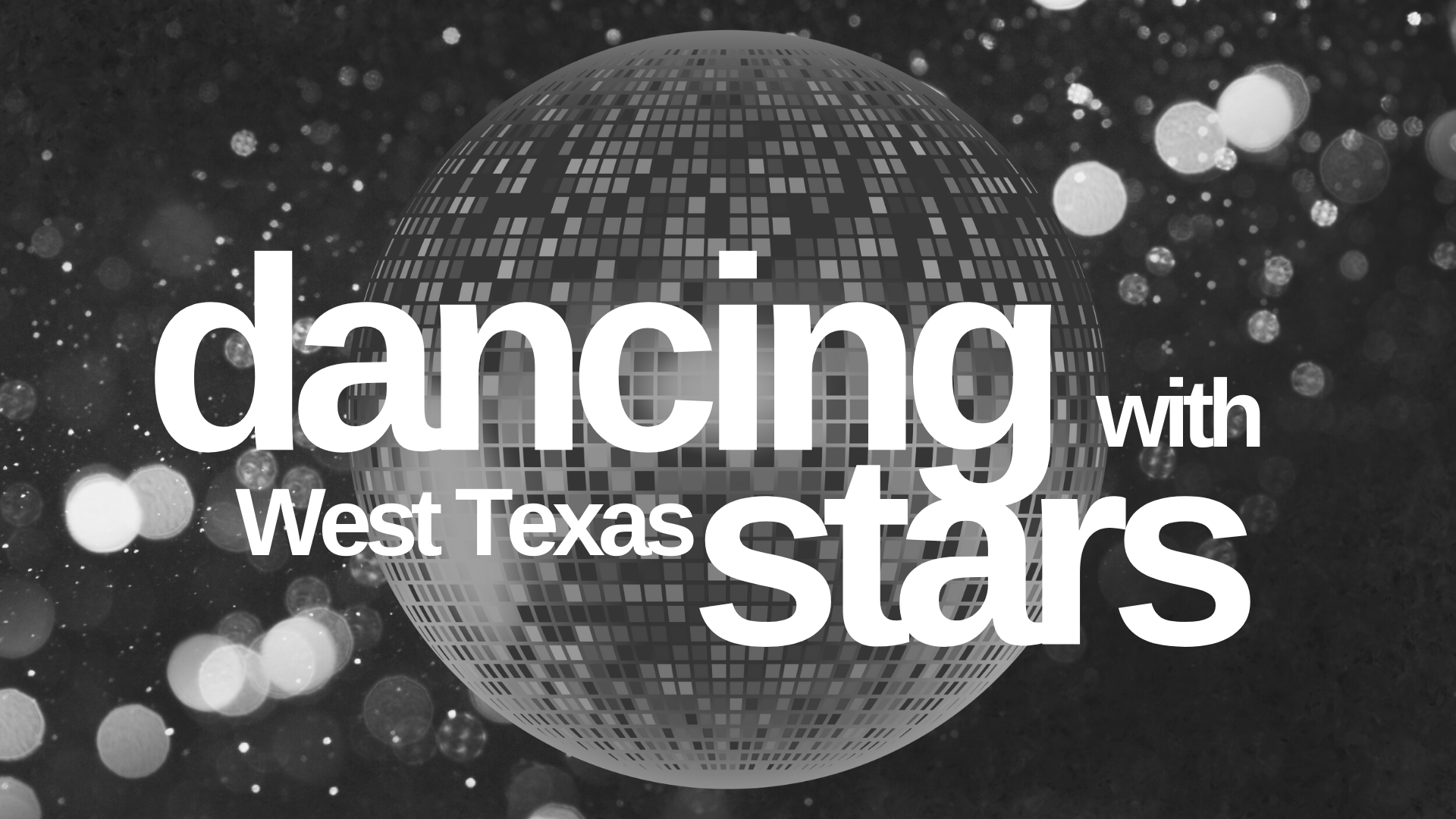 ---
The Event
Join Crisis Center of West Texas on February 8th, 2020 for the 6th annual Dancing with West Texas Stars, our biggest fundraising event of the year! Twelve West Texas Stars have paired with their talented partners to dance the night away and raise funds to end sexual assault and domestic violence in West Texas.
Vote & Donate
Your donations and ticket purchases cast votes for your favorite dance team, helping them get closer to the grand prize - the Mirror Ball Trophy. The team with the most votes by noon on Friday, February 7th wins!
Keep reading to learn more about our stars and to cast your votes!
Daniel Bright
Daniel grew up in Odessa. He is married to Meredith, and has three children – his son Walker and daughters Sunny and Caroline. He received his BBA and MBA at UTPB. For the last seven years, he has worked in Sales at Sewell Ford. Daniel believes in giving back to his hometown community by committing his time to be a member of the Executive Boards of Permian Basin Rehabilitation Center and the UTPB Falcon Alumni Network.
---
Stacey Brown
Stacey is a native Odessan who graduated from Permian High School in 1982 and Texas Tech University in 1986. She has worked the majority of her healthcare career at Odessa Regional Medical Center where she started as staff accountant in 1991 and has served as CEO since 2009. Stacey loves Odessa which shows through her active role in the community where she has served on boards including Harmony Home, March of Dimes, Permian Basin Area Foundation, and the Odessa Chamber of Commerce. She currently serves as the Chairman Elect and Treasurer for the Odessa Chamber of Commerce. Stacey is married to Michael and together they have 3 daughters and 2 sons ranging in ages from 14 to 25.
---
Mandi Burleson
Mandi was born and raised in Odessa. She is married to her best friend, Matt, and has a beautiful 24 year old daughter, Dani, and a sports-loving 4 year old son, Cooper. Mandi graduated in 2002 from Odessa College and began her career as a Clinical Coordinator and Clinical Instructor at outpatient orthopedic clinics in Odessa/Midland. In 2018, she expanded on her love of teaching, beginning a position as Academic Coordinator of Clinical Education at Odessa College. She serves as Membership Committee Liaison for the Permian Basin District of the Texas Physical Therapy Association, and Mentor/Career Expert for Access @ ECISD. Her passion and enthusiasm are reflected in all areas of her life, including her love for dancing and traveling, and she is honored to continue giving back to the community which raised her.
---
Laura Carpenter
Laura A. Carpenter is a native West Texan who chose to move back to Odessa after attending Law School at the University of Kansas to open her own law practice. She is the mother to 5 brilliant, creative, and beautiful adults.  Ms. Carpenter started dance at Kiddie Kollege at the age of 5.  She has performed over the years in local productions at numerous playhouses and with dance troupes throughout Texas and upstate New York.  Please enjoy her performance and remember, she is almost 60….so she is hopefully still kicking it!
---
Buddy Hale
Buddy Hale has spent his entire life in Odessa. During this wonderful life, he has served his community and the Lord with a passion. He is married to Leta Hale. Buddy attended Texas Agricultural and Mechanical College (now Texas A&M) on a Murray Faskin Foundation scholarship where he played basketball his freshman year. He graduated from Texas A&M in 1974. Since then, Buddy has devoted most of his career to working with kids in Ector County Schools.
---
Maggie Hargrove
Maggie is a graduate of Texas A&M University with a bachelor's degree in Communications and a minor in Business Administration. After graduating college, Maggie returned to Odessa to work as the Volunteer Coordinator for CASA of the Permian Basin. After returning to Odessa, Maggie met her husband Logan Hargrove and moved to Colorado where she taught as a Montessori preschool teacher. Maggie and Logan have been married for seven years, and have a 15 month old daughter named Elliot. Currently, she is working in medical insurance billing and coding for her father, Dr. Matthew Furst. Maggie serves as a member of the Harmony Home board, and is also a volunteer for The Bridge children ministries.
---
Gary Madden
Dr. Gary Madden is an Obstetrician- Gynecologist who has been practicing in Midland since 1986. Father of 3 daughters and "Papadoc" to 6 1/2 grandchildren, he gets to brag mercilessly with his wife of 38 years, Shauna. Raised in Odessa and a graduate of Permian , he attended Texas Tech University and received his MD at Tech and completed his OB- GYN residency at Baylor University Medical Center in Dallas. Besides singing in church choir, he has performed in several plays at Midland Community Theater including roles as Harold Hill in Music Man, Captain Hook In Peter Pan and Billy Flynn in Chicago. He loves dancing at weddings and has watched a lot of Dancing With The Stars on television. He has a passion for golf, whistling, and telling others what to do… and for helping to create strong women.
---
Blessed Matai
Blessed serves as the Training Coordinator for the Law Enforcement Training Academy at Odessa College, where he trains and instructs current and future police officers. Blessed and Sarah, his wife of twelve years, have three children. Prior to working at Odessa College, Blessed served the city through his work with the Odessa Police Department. He is an athlete who enjoys everything about fitness, health, and combat sports.
---
Cody Mygrant
Cody Mygrant is a Physician Assistant, and graduated from the Texas Tech PA Program in Midland, TX in 2015. He has worked with a general surgeon, Dr. Kevin Lynch, for over 4 years. Cody enjoys playing tennis and has a passion for cooking. He loves living in West Texas with his wife, Stephanie, who is an Engineer. Both Cody and Stephanie are proud Aggies, Whoop! He is grateful to be a part of the mission of Dancing with West Texas Stars!! Now he's ready to rock and roll!!!!
---
Kylie New
Kylie New is a Midland native and graduated from Midland High in 2009. Kylie and her husband Matt were born and raised in the Permian Basin, and they are proud to raise their sons, Shayne and Owen, in a community that they love and continue to call home. Kylie recently stepped out of her role as a stay-at-home mom and began her own career in interior decorating and design. Kylie New Designs began with home interiors, but the road eventually led her to her newfound love of design, where she finds freedom in creativity. Her hobbies include working out, eating Thai food, dancing around her house when no one is home, and helping her husband further his music career. 
---
Jason Payne
Jason Payne MSN, RN and his wife Laura, and their daughter Kylee were born and raised in Odessa. He has been a Registered Nurse for ten years, and has spent the majority of his career as a nurse in the Emergency Department. There, he learned about Crisis Center of West Texas and has referred numerous patients to the agency throughout his time in his profession. In 2015, Jason and Laura opened Payne's Gym, as their family enjoys working out. Jason has a passion for the medical field and achieved one of his dreams when they opened Trinity Family Medicine in January of 2019, where they can provide much-needed and deserved medical care in Odessa.
---
Sandy Woodley
Dr. Woodley began her tenure as President of The University of Texas Permian Basin in 2017. A role model for non-traditional students, she completed her education while also working full-time and raising her children, and became the first person in her family to graduate from college. Prior to becoming president, Dr. Woodley served as the chief executive officer for the University of Louisiana System. A graduate of Auburn University, Dr. Woodley earned both a bachelor' and master's degree in business administration, where she majored in finance and economics. She also holds a Doctor of Business Administration degree in management from Nova Southeastern University. Dr. Woodley is a native of Weaver, Alabama, and is married to Stan Woodley. Her family includes three grown children, three grandchildren, and a German Shepherd named Jett.