Check back soon to register your Wonder Girl for our third annual Wonder Girls Camp!
Take a look at the 2018 schedule, menu, and frequently asked questions! 2019 information coming soon!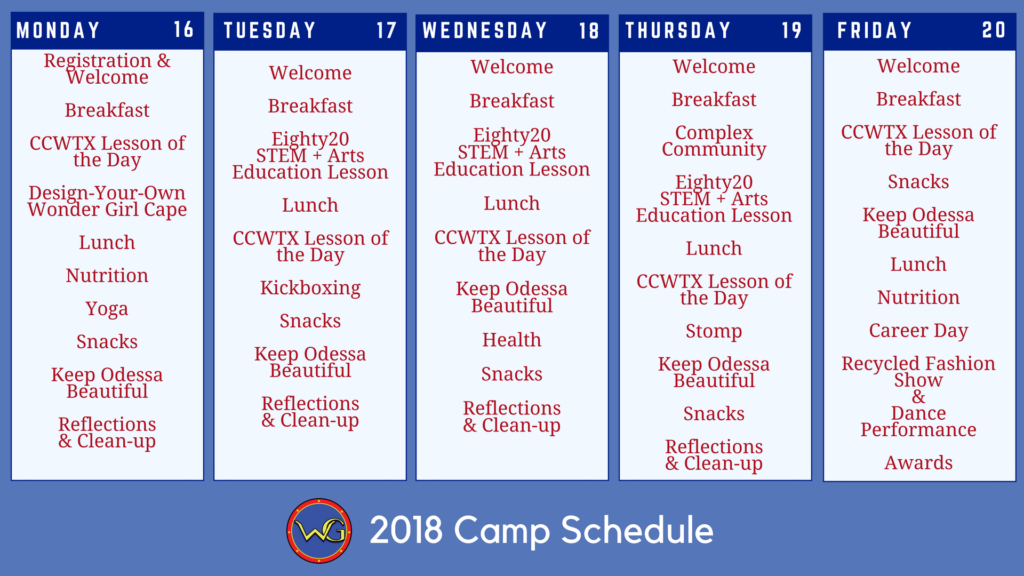 ** Please Note: schedule subject to change **

Frequently Asked Questions:
Q: Where is the camp located?
A: The Globe Theater at Odessa College [Map]
Q: What time does camp start?
A: Drop-off begins at 7:30 AM and camp begins at 8:00 AM. Please allow extra time on Monday to check-in. If you did not attend Parent Orientation, you will be required to review important documents before camp starts.
Q: What does my Wonder Girl need to bring to camp?
A: Wonder Girls should wear comfortable clothes and shoes that they can move and play in. We recommend closed-toed shoes because we have science and physical activities scheduled throughout the week.
Q: Who is leading the camp?
A: Crisis Center of West Texas staff will lead Wonder Girls Camp. Community Service Managers will teach CCWTX lessons and Eighty20Edu staff will lead STEM + Arts lessons. All other activities will be facilitated by members of the community with expertise on the subject of the activity.
Q: If my Wonder Girl attended last year's camp, will there be new activities?
A: Yes! While some parts of camp will be familiar, there will be lots of new and exciting experiments and activities.
Q: What meals are provided?
A: Breakfast, lunch, and snacks are provided each day. Please include any food allergies in your Wonder Girl's registration forms. Wonder Girls are welcome to bring their own lunch or snacks if they do not plan to eat the items listed on the menu at the top of this page.
Q: Is transportation provided to and from camp?
A: No. Wonder Girls need to be dropped off at Odessa College by 8 AM and picked up shortly after 5 PM each day.
Q: Who can pick up my Wonder Girls from camp?
A: Only individuals listed on the Wonder Girl's application will be able to pick her up from camp. Parents, friends, family, neighbors, etc. are all welcome to pick up a Wonder Girl, but we require prior approval from the guardian who completed the application. ALL individuals picking up a Wonder Girl will be required to show a photo ID.
Other questions? Email Hannah Horick at hannah@ccwtx.org
Thank you for your interest in becoming a Wonder Girls donor! Stay tuned for specific sponsorship opportunities.
If you have a particular service, product, or other in-kind contribution that you'd like to donate, please call 432-333-2527 or email Hannah Horick at hannah@ccwtx.org
Check back soon for Wonder Girls 2019 volunteer applications!